Trips Abroad - Egypt May 2018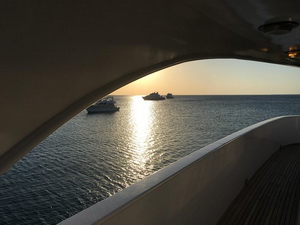 Dates: 25th May – 1st June 2018
Aboard: M/Y Red Sea Adventurer
The Vessel…
At 32 meters long with 12 cabins divided over three decks, M/Y Red Sea Adventurer is an ideal choice for smaller full charter groups. There are eight comfortably appointed twin cabins, two double cabins and two single cabins providing accommodation for 22 guests. All cabins benefit from en-suite facilities, air-conditioning and in-cabin entertainment.
The Itinerary…
Experience two of the finest areas in the Red Sea. As part of the marine park, the Brother Islands offer breath-taking underwater scenery, wall diving, wreck diving and an abundance of marine wildlife. The northern part of this itinerary will allow you to explore some of the best wrecks that the Red Sea has to offer. An ideal itinerary for those wanting a taste of variety, allowing you to experience world famous wrecks and pristine reefs.
Sample Itinerary:
**PLEASE NOTE** the itinerary below is an example of the planned route and dive sites cannot be guaranteed. All dives sites are subject to weather conditions and the final route taken is at the absolute discretion of the captain and dive guides.
Day 1 – Shaab El Erg, Abu Nuhas
Day 2 – Abu Nuhas, Ulysses, Gobal Barge
Day 3 – Rosalie Moller*, Thistlegorm – overnight sail to Brothers
Day 4 – Big Brother
Day 5 – Small Brother
Day 6 – Panorama, Abu Hashish
Itinerary Highlights…
SS. Thistlegorm – Shaab Ali
Probably the most famous of the Red Sea wrecks. The 129m English Freighter was bombed by German aviation on 6th October 1941. Today she creates an artificial reef on a sandy bottom at 32m max depth. She is home to an enormous variety of marine life and is especially popular with large schooling fish.
Abu Nuhas
Also known as the 'Ships Graveyard', this reef is dangerously positioned close to the busy shipping lanes of the Gulf of Suez. This reef has claimed more ships than any other in the area. On the north side, there are four wrecks laying on a sandy seafloor at the bottom of a steep sloping reef layered with table corals. On the south side is a safe anchorage for liveaboards and two ergs, known as Yellow Fish Reef.
Ghiannus D – Abu Nuhas
In 26m of water and leaning to port with a fully intact stern section and an impressive engine room packed with glass fish.
Carnatic – Abu Nuhas
A British P&O steamer which struck the reef in 1869. She lays in 29m and now the whole hull is draped in multicolored soft corals. The wreck is home to glass fish, octopus, morays, jacks and tuna cruise overhead.
Big Brother Island
A 400 meter long island offering fabulous wreck diving and wall diving. The wreck of the Numidia lies on the northern tip between 10 and 80 meters. The north-west side of the island houses the wreck of the Aida. Every section of this reef is covered with corals and life.
Small Brother Island
From its name, you can guess that it is a little smaller than Big Brother Island! It is surrounded by walls, covered in soft corals. The dives can be challenging, but are definitely rewarding. Sightings of large pelagics are very common and the beautiful Gorgonia Fan coral forest is an awe inspiring sight overhead.
Small Crack
This is a small split in the middle of Shaab Mahmoud's barrier. Drift along the outside wall next to beautiful corals and colorful fish. Look for a sand slope that leads you up and through the crack. When the current is right you can fly through the 5m deep channel and be thrown out across the sandy lagoon!
Gubal Island
At the gate of the Straits of Gubal is 'Bluff Point', which gets its name from the turbulence created by strong currents that beat the eastern wall of the island. The wreck of the 'Ulysses' lies on the reef 300m north of the lighthouse, starting at 5m and sloping to 25m. 'The Barge' wreck, south of the lighthouse, provides divers with a fun and unusual night dive. The wrecks skeleton creates protection for all types of night creatures.
All dive sites are subject to weather conditions and cannot be guaranteed.
£1449 per person + £35 VISA
Includes: Return flights MAN-HRG, transfers from/to airport in Hurghada, 7 nights full board accommodation, tea/coffee/water/soft drinks, snacks, 6 days diving, 12lt cylinder and weights.
Terms: All divers must have a minimum of 30 logged dives to take part in this itinerary
BOOK NOW!
TO BOOK ON TO THIS TRIP, CALL KEVIN ON 01939 291 303 OR VISIT US IN THE DIVE CENTRE